My friend Dr. Gary North posted the following at the Tea Party Economist website:
"The Brotherhood of the Bell (1970) remains the premier conspiracy theory movie. It starred Glenn Ford and Dean Jagger.
"I first saw it in 1980, I think. It is rarely shown.
"Now it is on YouTube. Fewer than [8,000] people have clicked it.
"I think it will be pulled.
"It is possible to download YouTube videos to your hard drive. Here are programs that do this."
With all the backroom deals, talk about the "establishment," and a recent meeting of "billionaires, tech CEOs and top members of the Republican establishment" who met at a private Sea Island, Georgia, resort "for the American Enterprise Institute's annual World Forum," that turned into how "to stop Republican front-runner Donald Trump," (H/T: Breitbart) such conspiracy claims don't seem that far-fetched.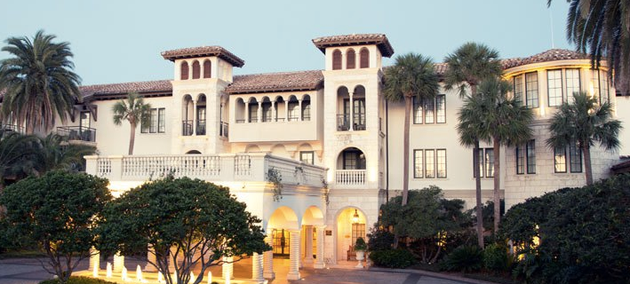 Consider this mix of world shapers:
Apple CEO Tim Cook, Google co-founder Larry Page, Napster creator and Facebook investor Sean Parker, and Tesla Motors and SpaceX honcho Elon Musk all attended. So did Senate Majority Leader [score]Mitch McConnell[/score] (R-Ky.), political guru Karl Rove, House Speaker [score]Paul Ryan[/score], GOP Sens. [score]Tom Cotton[/score] (Ark.), [score]Cory Gardner[/score] (Colo.), [score]Tim Scott[/score] (S.C.), [score]Rob Portman[/score] (Ohio) and [score]Ben Sasse[/score] (Neb.), who recently made news by saying he 'cannot support Donald Trump.'"
"Along with Ryan, the House was represented by Energy and Commerce Committee Chair Fred Upton (Mich.), Rep. [score]Kevin Brady[/score] (Texas) and almost-Speaker [score]Kevin McCarthy[/score] (Calif.), sources said, along with leadership figure [score]Cathy McMorris Rodgers[/score] (Wash.), Budget Committee Chairman [score]Tom Price[/score] (R-Ga.), Financial Services Committee Chairman [score]Jeb Hensarling[/score] (Texas) and [score]Diane Black [/score](Tenn.).
"Philip Anschutz, the billionaire GOP donor whose company owns a stake in Sea Island, was also there, along with Democratic Rep. [score]John Delaney[/score], who represents Maryland. Arthur Sulzberger, the publisher of The New York Times, was there, too, a Times spokeswoman confirmed." (H/T: Huffington Post)
Trending: Bus Driver Arranges the Vicious Beating of a White Family
Consider this: "D'Souza: Hillary Film Could Earn Me 'Life in Prison.'"
Here's a brief review of The Brotherhood of the Bell:
"Glenn Ford plays a man who joins a mysterious fraternity, 'The Brotherhood of the Bell,' while in college. Upon attaining wealth and prominence, Ford discovers that the Brotherhood has been keeping tabs on him, and expects certain favors from him in the private sector. It dawns on Ford that the Bell is a sinister, subversive organization bent on world domination. When he tries to bring this to the attention of the public on a TV program hosted by a 'gonzo' talk show star (William Conrad), he is mocked and humiliated. Realizing that the Brotherhood of the Bell is too big and powerful to be defeated by conventional methods, Ford attempts to take on the organization in his own way."
Here's another one:
"The Brotherhood of the Bell is a secret organization of American men who have power and influence in both government and the upper echelons of business, education, and society in general. Once sworn to secrecy as a member, to go against the Brotherhood is to risk ruin and ostracism. Glenn Ford's character, after being asked to blackmail a University professor (which results in his suicide) has a crisis of conscience and determines to leave the Brotherhood and expose their evil ways."
https://www.youtube.com/watch?v=1owsbX4Sz1M
Reposted with permission from Constitution.com.
The views expressed in this opinion article are solely those of their author and are not necessarily either shared or endorsed by EagleRising.com