A current investigation is underway after a Brazilian baby was shot by a stray bullet while still in his mother's womb. He survived though and he has been deemed a miracle baby by his family who are praying and hoping that he overcomes the injuries he has endured.
After being hit, Arthur was delivered by way of an emergency c-section. However, due to spinal injuries, he is now paraplegic. They hope to see him walk one day.
Mother Claudineia dos Santos Melo was nine-months pregnant when she was shot while passing a gunfight in a favela in Rio de Janeiro state.

However, there is hope that he may make some recovery.

Gynaecologist José Carlos Oliveira, who is monitoring Arthur's progress, called his survival "a miracle happening before our eyes".
Trending: Government Forces Churches To Perform Gay Marriage
Oliveira said, "Today, he is paraplegic, but anything can happen in the life of this child," and then added that he has never seen a case like this before.
take our poll - story continues below

Completing this poll grants you access to Eagle Rising updates free of charge. You may opt out at anytime. You also agree to this site's Privacy Policy and Terms of Use.

The mother's brother, Leonardo dos Santos, echoed the sense of hope when talking to BBC Brazil.

"I want to see the baby grown strong and walk and run alongside the family," he said. "The relatives here are all praying together."

Ms Dos Santos, 28, was days away from her due date and shopping for nappies when she was struck while walking in Duque de Caxias, north-west of Rio de Janeiro city, on Friday.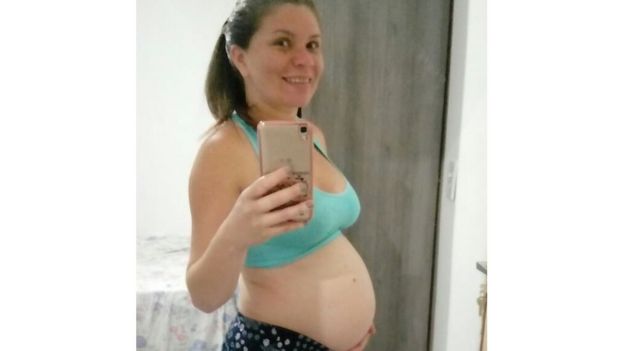 The bullet reportedly entered through her hip and went through her body, hitting the unborn child. It caused a number of injuries, including the spinal injury that paralyzed him.
Ms Dos Santos is said to be in a stable condition, breathing without aid.

The baby's father, Klebson da Silva, 27, has visited the pair in hospital and told local reporters that he was filled with hope after seeing "victorious" Arthur.

Ms Dos Santos may give her testimony to police from hospital on Tuesday, according to O Globo newspaper.
According to police, they believe she was hit by criminals and not by a police officer fighting against them.
The baby has already made it so far by simply surviving the injuries sustained by the bullet. He is a fighter.
The views expressed in this opinion article are solely those of their author and are not necessarily either shared or endorsed by EagleRising.com