The LA Times/USC Daily Tracking Poll began reporting results on July 10. Daily poll numbers represent an average of randomly sampled polling if a control group over the prior seven days.
These data provide interesting perspectives of the presidential race not readily noted by just following changes in the daily poll numbers. Here are a few of those perspectives based on data up to and including September 20:
Hillary Clinton reached her highest polling, 46.3%, just once back on August 13.
Donald Trump met or exceeded Clinton's peak polling 13 separate times including eight consecutive days up to and including September 20.
Trump's lowest performance in the poll was 41.6% on July 10.
Clinton's poll performance fell below Trump's lowest point five times in the most recent week (prior to and including September 20).
From August 13 to September 20 Clinton's support fell 4.1% while Trump's support rose 4.7%, a net swing in Trumps favor of 8.8%.
These observations reveal that since August 13 there has been a steady movement in support from Clinton to Trump.
take our poll - story continues below
Completing this poll grants you access to Eagle Rising updates free of charge. You may opt out at anytime. You also agree to this site's Privacy Policy and Terms of Use.
Daily Averages Since August 13
Looking at averages to date since August 13, Figure 1 shows a net swing in poll averages of 6% (from 4.7% in favor of Clinton on August 13 to 1.3% in favor of Trump on September 20).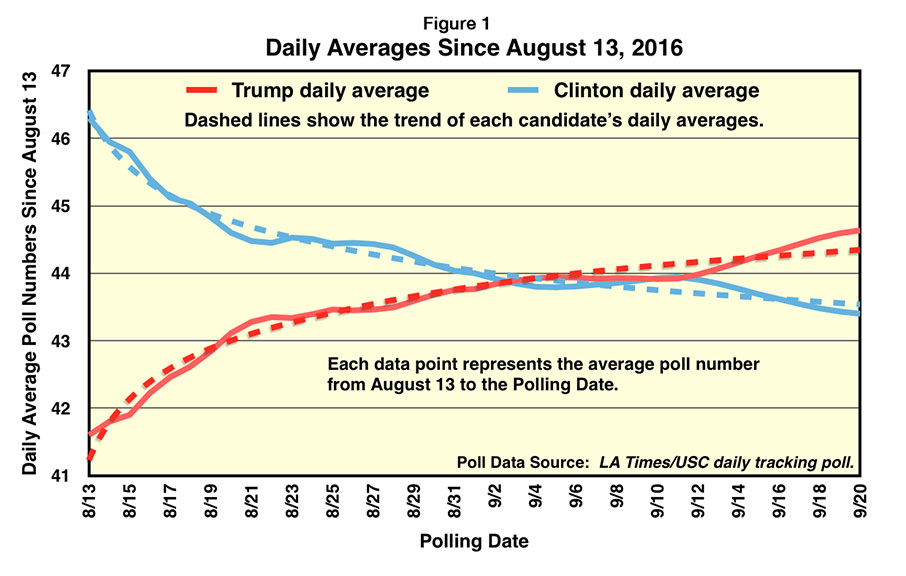 A logarithmic trend best fits the history of daily averages and suggests the slow and steady trend in favor of Trump will likely continue.
Daily Deviations from Averages to September 20
In Figure 2 below…
The views expressed in this opinion article are solely those of their author and are not necessarily either shared or endorsed by EagleRising.com